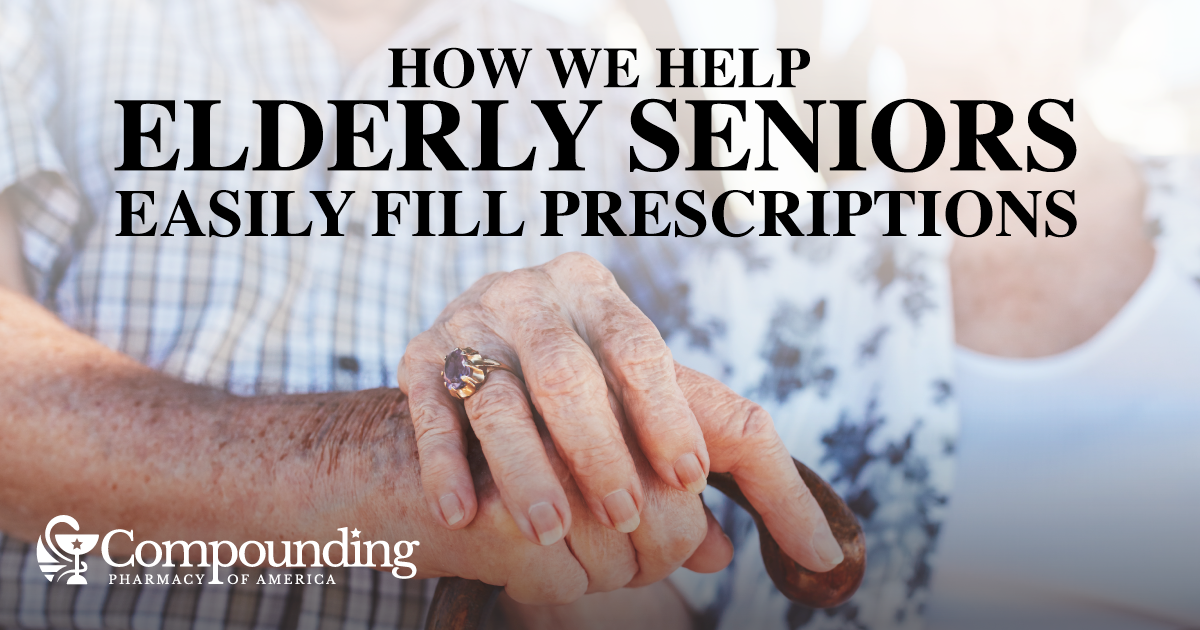 How Compounding Pharmacies Help the Elderly
Americans of all ages require prescriptions to live healthy lives, but our elderly loved ones typically rely on several prescriptions to maintain a certain level of wellness and comfort. While many seniors can find their medications relatively easily, sometimes necessary medications aren't available in the appropriate dosages or a usable form. Some patients may struggle with taking large pills or multiple forms of medication, and The Compounding Pharmacy of American can help.
An Online Pharmacy That Is Friendly and Easy For Seniors
As we age, certain things we used to take for granted can become challenging. Swallowing pills can become difficult, or some forms of medication can be hard on delicate stomachs. Certain drugs on which the elderly have come to rely can become unavailable due to back-ordering or manufacturing issues. In these situations, a compounding pharmacy can be a life-saver. We can produce drugs in a liquid form for easier ingesting to prevent an upset stomach. Medications can be combined when necessary, and they can be delivered to the doors of those who can't drive to a pharmacy for pick-up. At The Compounding Pharmacy of America, we even have some drugs that are hard to obtain at traditional pharmacies.
The average life expectancy continues to increase, more and more elderly patients find themselves in need of prescription medications. As demand has grown, many "niche" pharmacies have surfaced to provide specific patient types with exactly what they need. Niche pharmacies exclusively serve children who require pediatric prescriptions or elderly individuals. Niche pharmacies can be a great option for some seniors, yet they are still relatively few and far between, and many elderly patients may not have easy access to one. For these individuals, The Compounding Pharmacy of America can ship their prescriptions right to their front doors.
Compounding Pharmacy for Seniors
Our simple online ordering and pharmacist care process allows anyone to understand the custom options available and order with ease.
We proudly ship to patients in 12 states*:
Tennessee
Georgia
Florida
Virginia
Colorado
Washington D.C.
Connecticut
Maryland
New Jersey
Alabama
Patients in these states can reach out to us for completely customized medications in the form that best suits each lifestyle and medical condition.
Ordering and Refills
Some patients may struggle with repeated visits to the pharmacy or may not be able to travel. In these situations, home delivery is a tremendous help when it comes to getting the right medications on time. Our ordering process is simple and easy to understand, and we can ship to patients' homes or doctors' offices – whichever is most convenient for the customer.
Variety of Selections
Many elderly patients must take prescription medications for several types of medical issues, and The Compounding Pharmacy of America has a robust selection of medications for various health concerns. We ship medications including:
Dental

Dermatology
Urology

Hospice
Veterinary (flavored), So Pets Love Taking Their Medicine.

Pediatric

Ophthalmological, Including Anesthetics and Antibiotics.
Topical Creams, Injuries and Musculoskeletal Pains, or for Patients Who Cannot Ingest Pills Orally.

Customized Medicine for Anyone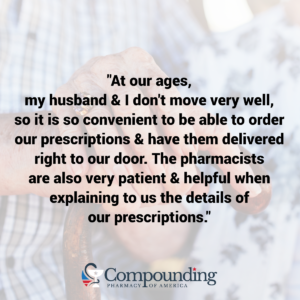 Some medications are manufactured in precise dosages. While these dosage sizes might work for some patients, some medications can interfere with other medications or have properties that also affect how other drugs react in the body. Take this information into consideration, because a customized compounded medication may solve these issues.
Elderly patients don't have to worry about troublesome drug combinations or cutting pills anymore. The Compounding Pharmacy of America can create compounds of prescriptions or topical creams so patients can get the medicines they need in exactly the right size and form.
Reliability and Peace of Mind
Contending with pharmacy visits, managing refills, finding the right dosages and the right medications are serious problems for many elderly Americans. We want to make filling prescriptions easier for our customers, so we offer to ship prescribed medicine to 12 states. Additionally, custom compounded medications can provide a higher standard of relief than standard manufactured drugs. The Compounding Pharmacy of America has elderly patients covered. Ordering is easy; you can get exactly the right combinations in whatever form works best for you, and have your prescriptions delivered right to your doorstep.
If you or an elderly loved one are looking for a better way to take medication, see what The Compounding Pharmacy of America has to offer. Ordering and requesting refills are easy, and we can ship your prescriptions wherever is most convenient for you.
We Provide Compounding Services and Shipping to 12 States!
Get Prescriptions Fast and Easy
*Check here to see up to date service areas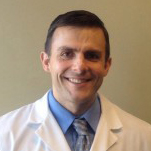 Chief Operating Officer, The Compounding Pharmacy of America
Matthew Poteet, Pharm.D. graduated with Honors from Lee University with a Bachelors of Science in Biological Science. After his undergraduate training, he completed the Doctor of Pharmacy program at Mercer University Southern School of Pharmacy, graduating in 2004. Dr. Poteet has spent much of his pharmacy career on staff at two of the most prestigious academic teaching hospitals in the Southeast; Emory University in Atlanta and Vanderbilt University Medical Center in Nashville. At these institutions he received extensive experience and training in sterile products compounding.
He returned home to East Tennessee in 2010, where he has held the position of Pharmacy Director at two sterile products pharmacies in Knoxville. Matthew lives in Knoxville with his wife, Chris. Dr. Poteet is Tennessee's first Board Certified Anti-Aging Pharmacist by the American Academy of Anti-Aging Medicine.