January is Thyroid Awareness Month. Thyroid disorders, their causes, symptoms and treatment will be discussed in this month's Compounding Spotlight.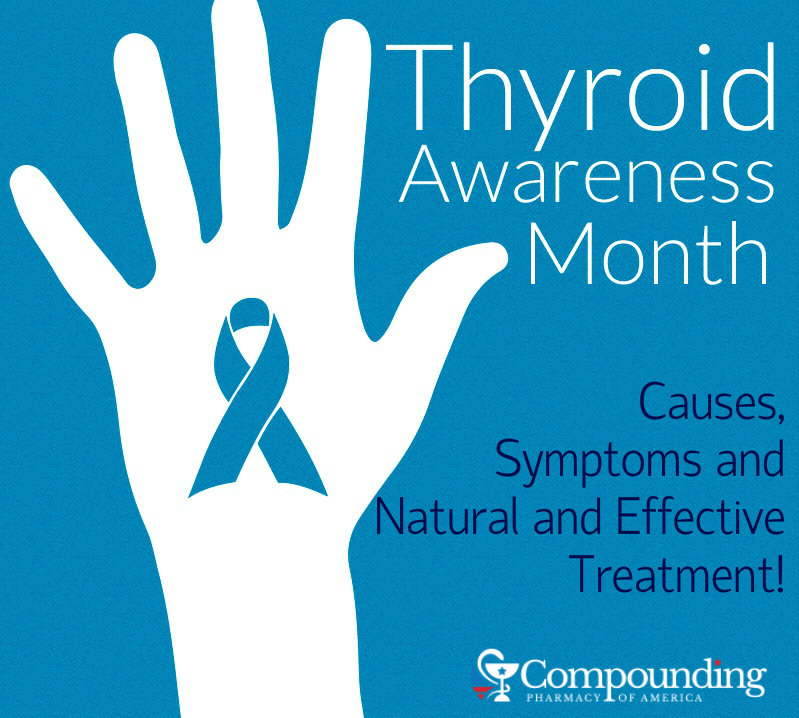 Types Of Thyroid Disorders
There are two categories of thyroid disorders. The first is hypothyroidism, which is when the thyroid is not releasing enough hormones. The second is hyperthyroidism, which is when the thyroid releases too much hormone. Each type of thyroid disorder has unique causes and symptoms.
Hypothyroidism
Hypothyroidism occurs when your thyroid does not make enough of the thyroid hormone.
Causes
There are four causes of hypothyroidism:
The first is an autoimmune disorder called Hashimoto's thyroiditis, in which your body attacks the thyroid tissue causing it to stop producing hormones.
The second cause of hypothyroidism is excessive exposure to iodine. Iodine is found in many cold medications as well as the contrast used in x-rays. Your risk of developing the condition from this exposure is greater if you have had trouble in the past.
A third cause, Lithium use, has been blamed for hypothyroidism. This drug is often used to treat conditions such as severe depression.
The final cause is having the thyroid gland surgically removed. If you have had your thyroid removed it is important to replace this hormone naturally.
Symptoms
Some of the symptoms of hypothyroidism are as follows:
fatigue
weight gain
constipation
increased sensitivity to cold
dry skin
muscle weakness
hoarseness
depression
Read on to see natural and effective treatments for hypothyroidism.
Hyperthyroidism
Hyperthyroidism occurs when the thyroid gland produces more thyroid hormones than necessary. This condition is often called "overactive thyroid".
Causes
There are four main causes of hyperthyroidism:
The first condition is known as Grave's Disease. This is simply the overproduction of thyroid hormones.
The second cause is toxic adenomas, which is the development of nodules in the thyroid gland that begin to excrete thyroid hormones which disrupt the chemical balance of your body.
A third temporary cause of hyperthyroidism is known as subacute thyroiditis. The thyroid gland becomes inflamed and excretes excess hormones. It may last weeks to months before you return to normal.
The final, less common cause of hyperthyroidism is cancerous growth on the thyroid gland.
Symptoms
Some of the symptoms of hyperthyroidism are as follows:
increased sweating
irritability and nervousness
weight loss yet increased appetite
frequent bowel movements
tremors
increased heart rate
sleep disturbances
changes in vision
Read on to see natural and effective treatments for hyperthyroidism.
Treatment For Thyroid Disorders
If you are suffering from any of these conditions, and are diagnosed with either hypothyroidism or hyperthyroidism, our compounding pharmacy can help successfully treat you!
Treatment for thyroid disorders is often done with synthetic medications and hormones. This is not ideal, as negative side effects can occur.
This is why we here at The Compounding Pharmacy of America use bio-identical hormone replacement therapy (BHRT). This is the safest and most effective hormone therapy. We can create a customized bio-identical hormone replacement compound made just for you and your specific needs!
If You Are Interested In Learning More And Feeling Better – Call Us Now!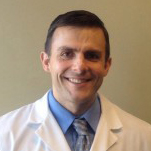 Chief Operating Officer, The Compounding Pharmacy of America
Matthew Poteet, Pharm.D. graduated with Honors from Lee University with a Bachelors of Science in Biological Science. After his undergraduate training, he completed the Doctor of Pharmacy program at Mercer University Southern School of Pharmacy, graduating in 2004. Dr. Poteet has spent much of his pharmacy career on staff at two of the most prestigious academic teaching hospitals in the Southeast; Emory University in Atlanta and Vanderbilt University Medical Center in Nashville. At these institutions he received extensive experience and training in sterile products compounding.
He returned home to East Tennessee in 2010, where he has held the position of Pharmacy Director at two sterile products pharmacies in Knoxville. Matthew lives in Knoxville with his wife, Chris. Dr. Poteet is Tennessee's first Board Certified Anti-Aging Pharmacist by the American Academy of Anti-Aging Medicine.