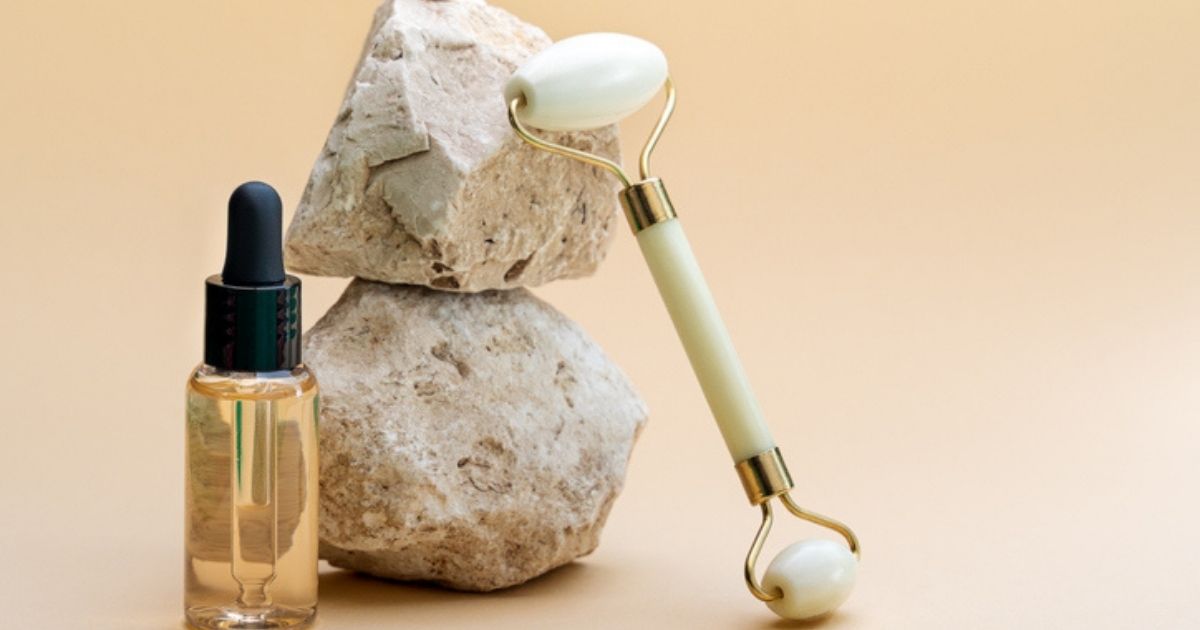 Making a purchase through a link on this page may earn us a small commission. Learn More.
Most of us recognize that properly taking care of our skin requires a bit more than a splash of water and the occasional dab of sunscreen. However, with the abundant variety of skincare products available on the market, it can be overwhelming to determine what you truly need to keep your skin smooth, clear, and radiant. From cleansing balms and toners to exfoliators and facial oils, your options are virtually endless, so finding the right routine for your unique skin can be an intimidating task. If you have additional concerns, such as dark spots, dry skin, or acne, navigating these products becomes even trickier.
As you've likely already noticed, aging causes your skin to lose moisture, get thinner, and produce less collagen and elastin [1]Zhang, S., & Duan, E. (2018). Fighting against Skin Aging: The Way from Bench to Bedside. Cell transplantation, 27(5), 729–738. https://doi.org/10.1177/0963689717725755. This means your fine lines and wrinkles become more obvious, and you must work twice as hard to ensure your skin stays hydrated and can effectively repair itself. Now is the time to focus on giving your skin the special attention it deserves with truly high-quality products. To keep your skin healthy and beautiful, the three main skincare products you need are anti-wrinkle creams, anti-aging serums, and under-eye creams.
If you're ready to move beyond the personal care section of the drugstore aisle and give your skin what it really needs to thrive, check out our guide to anti-aging skincare essentials. We cover the differences between the most important products, explain how you can use them together for maximum impact, and list the best anti-aging skincare products of 2021.
Why Moisturizing Is Crucial for Aging Skin
Before we start discussing the types of skincare products, it's key to understand the difference between hydration and moisturization. Hydration refers to water within your skin cells that allows them to take in essential nutrients. Environmental stressors, lack of water, poor sleep, air conditioning, and harsh products can all strip skin of hydration [2]Lee, H. J., Jeong, S. E., Lee, S., Kim, S., Han, H., & Jeon, C. O. (2018). Effects of cosmetics on the skin microbiome of facial cheeks with different hydration levels. MicrobiologyOpen, 7(2), … Continue reading. Dehydrated skin is not the same as dry skin — any skin type can become dehydrated as water evaporates from the surface of the skin. If your skin is itchy, dull, or rough, you notice more fine lines and wrinkles than usual, or your eyes develop dark circles; this indicates your skin lacks water.
While hydration delivers water to your skin and makes it feel softer, this is not sufficient for keeping your skin soft. You also need oils on your skin to protect this hydration and prevent it from escaping[3]Lin, T. K., Zhong, L., & Santiago, J. L. (2017). Anti-Inflammatory and Skin Barrier Repair Effects of Topical Application of Some Plant Oils. International journal of molecular sciences, 19(1), … Continue reading. Moisturizers are made of compounds, such as natural lipids, that trap and lock this moisture in to build up your skin's natural protective barrier and keep it looking and feeling supple. If your skin is dry, flaky, or tight, this signals that it's not properly moisturized and needs oil. Applying moisturizer is key to preventing water loss. However, if your skin is also dehydrated, simply adding oils might make it appear smoother, but it won't give you the plump, bouncy feel you're aiming for. You need to hydrate and moisturize.
Wrinkle Creams vs. Serums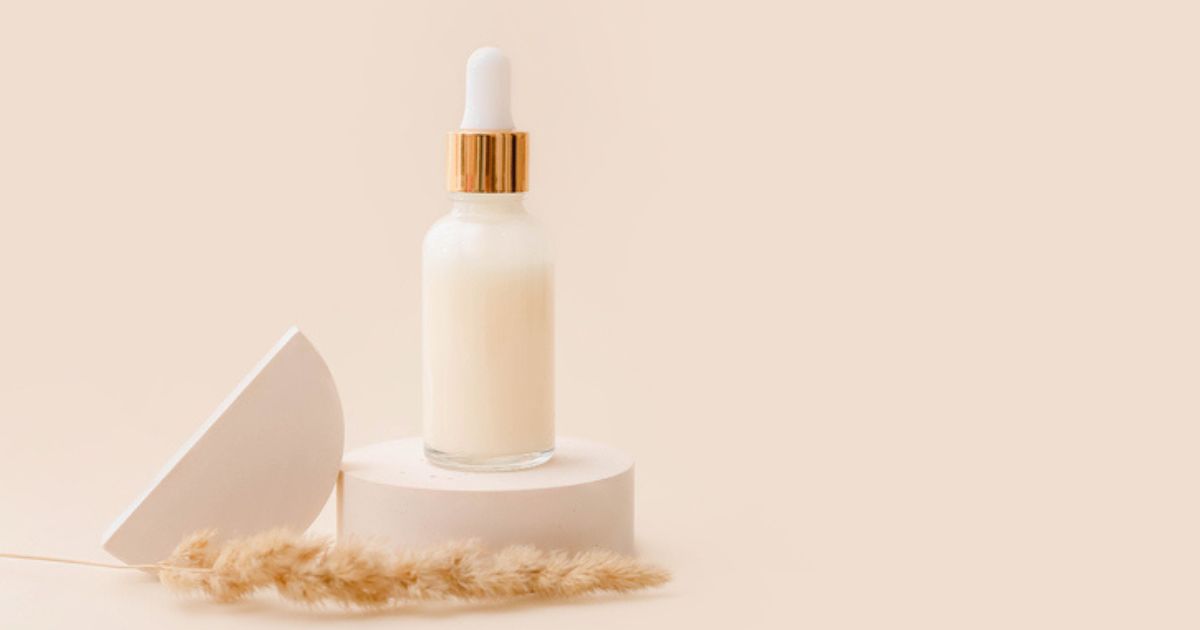 Wrinkle creams are a form of moisturizer consisting of oil, water, waxes, and other beneficial ingredients that support skin health. Lotions are technically moisturizers, as well, but they have a higher ratio of water to oil and wax, making them more lightweight and easier to spread and absorb into the skin. In contrast, creams are often a one-to-one blend of oil and water, so they are thicker, creamier, and offer better moisturizing than lotions, especially for dry skin or during the winter. They help to fortify the skin's protective barrier, bind skin cells together, and increase surface moisture [4]Purnamawati, S., Indrastuti, N., Danarti, R., & Saefudin, T. (2017). The Role of Moisturizers in Addressing Various Kinds of Dermatitis: A Review. Clinical medicine & research, 15(3-4), … Continue reading. Wrinkle creams also have other ingredients specifically designed to support aging skin and deliver the nutrients it needs to repair itself.
Typically stored in tincture bottles, serums are thin, lightweight, and absorbent formulations designed to deliver targeted active ingredients. They have smaller molecules than creams and can penetrate deeply into the skin, leaving little or no product behind on the surface and making it easy to layer or mix with other products. Serums can be created to address specific concerns related to aging skin, including wrinkles, dark spots, and hyperpigmentation. While they are often more expensive than other types of skincare products, they feature more potent ingredients at higher concentrations, so you only need a small amount to achieve the desired effect. However, serums do not work as well as creams and other moisturizers at preventing water loss.
Five Steps for Choosing (and Using) the Best Products for Aging Skin
Wrinkle creams and anti-aging serums both play important roles in a healthy skincare routine as you age. To get the most out of your skincare products, follow these five steps:
Step 1: Select Products with Specific Ingredients
Not all products are formulated the same, so make sure you select ones with the right ingredients to target your skin concerns. Dermatologists recommend these active ingredients for their anti-aging properties:
Retinol
Retinol is a derivative of vitamin A that reduces fine lines and wrinkles by increasing collagen production and decreasing collagen breakdown[5]Tanumihardjo, S. A., Russell, R. M., Stephensen, C. B., Gannon, B. M., Craft, N. E., Haskell, M. J., Lietz, G., Schulze, K., & Raiten, D. J. (2016). Biomarkers of Nutrition for Development … Continue reading. It also increases the production of elastin, fades dark spots, encourages skin firmness, improves the appearance of pores, and repairs damage from UV rays. Keep in mind that you should not use retinol while pregnant or breastfeeding. Because retinol increases the skin's sensitivity to the sun, it should only be used in the evening to avoid sun damage.
Collagen peptides
Peptides are short strings of amino acids that are naturally present in foods. Certain peptides increase collagen production, decrease collagen breakdown, protect skin from environmental damage, and smooth fine lines and wrinkles[6]Paul, C., Leser, S., & Oesser, S. (2019). Significant Amounts of Functional Collagen Peptides Can Be Incorporated in the Diet While Maintaining Indispensable Amino Acid Balance. Nutrients, 11(5), … Continue reading. Some recent formulations act as growth factors, stimulating the creation of new skin cells, while others inhibit the release of neurotransmitters that help prevent facial muscles from developing wrinkles.
Antioxidants
Vitamin C brightens skin, creates a healthy glow, and fights free radical damage that breaks down collagen and causes wrinkled sagging skin. Vitamin B5, vitamin E, and other antioxidants smooth skin texture, even skin tone, and fight free radical damage.
Niacinamide
This is a form of vitamin B3 (niacin) that shrinks pores, regulates oil levels, calms inflammation, improves skin texture, provides protection against free radicals, and reduces fine lines and wrinkles. It also helps the skin renew its protective barrier by increasing the production of proteins necessary for forming and maintaining the skin's outermost layer[7]Wessels, Q., Pretorius, E., Smith, C. M., & Nel, H. (2014). The potential of a niacinamide dominated cosmeceutical formulation on fibroblast activity and wound healing in vitro. International … Continue reading. Niacinamide is a great alternative for people who cannot use retinol or have sensitive skin, as it is easier for the skin to tolerate without causing irritation.
Alpha hydroxy acids (AHAs)
This category of plant- and animal-derived acids are used for exfoliation, which encourages cell turnover and aids in the absorption of other skincare products. AHAs have also been shown to promote collagen production, stimulate blood flow, reduce fine lines and wrinkles, fade dark spots, increase skin thickness, boost hydration, even skin texture, and prevent acne[8]Tang, S. C., & Yang, J. H. (2018). Dual Effects of Alpha-Hydroxy Acids on the Skin. Molecules (Basel, Switzerland), 23(4), 863. https://doi.org/10.3390/molecules23040863. Glycolic acid and lactic acid are the most well-researched AHAs and cause the least amount of irritation when applied topically.
Hyaluronic acid
This is a substance naturally produced by your body and found in your skin, eyes, and connective tissues. It helps skin attract and retain moisture, improves elasticity and firmness, decreases the depth of wrinkles, and imparts a healthy glow.
Salicylic acid
This is an anti-inflammatory and antibacterial beta-hydroxy acid. It improves skin texture and brightens skin by penetrating deep into pores and unclogging them (making them appear smaller), reducing oil production, and encouraging dead skin cells to shed naturally[9]Liu, H., Yu, H., Xia, J., Liu, L., Liu, G. J., Sang, H., & Peinemann, F. (2020). Topical azelaic acid, salicylic acid, nicotinamide, sulphur, zinc and fruit acid (alpha-hydroxy acid) for acne. … Continue reading. Like retinol, it can enhance your skin's sensitivity to the sun, so make sure to apply sunscreen.
Step 2: Consider Your Skin Type
Different skin types have different needs. If you have sensitive skin, avoid retinol, niacinamide, exfoliants, parabens, sulfates, phthalates, citric acid, fragrances, and certain plant extracts, such as citrus oils, witch hazel, and mint. When adding a new product to your routine, avoid using other new products for a few weeks at a minimum. If you notice dryness, redness, or irritation, discontinue use immediately.
Step 3: Use Serum, Wrinkle Cream, and Sunscreen
If you aren't sure whether to go with a wrinkle cream or an anti-aging serum, the good news is you don't have to choose! In fact, dermatologists recommend using both for the strongest effects. The key is to layer beginning with the thinnest product and allow enough time for each to absorb before applying the next.
After cleansing and applying toner, use your fingertips to pat a pea-sized amount of serum onto your face and neck and smooth outward using gentle circular motions. Wait a minute for it to fully absorb, then top with moisturizer. This forms a protective seal on your skin so the serum can potentiate its active ingredients and work more effectively.
Finish with sunscreen to protect your skin from harmful ultraviolet rays that speed up the aging process and can cause skin cancer[10]Hubbard, G., Kyle, R. G., Neal, R. D., Marmara, V., Wang, Z., & Dombrowski, S. U. (2018). Promoting sunscreen use and skin self-examination to improve early detection and prevent skin cancer: … Continue reading. Always use sunscreen, even on cloudy days, and reapply every two hours if swimming or sweating. You want a broad-spectrum sunscreen of at least 30 SPF that has been designed for use on the face, so look for labels that say "oil-free" and "non-comedogenic."
Step 4: Be Careful When Combining Ingredients
Not all ingredients should be used together, so you should use them at different times or on different days.
Do not mix the following ingredients:
Retinol and glycolic acid
Retinol and vitamin C
Retinol and benzoyl peroxide
Retinol and salicylic acid
Retinol and AHAs
Vitamin C and AHAs
Vitamin C and benzoyl peroxide
Step 5: Additional Anti-Aging Skin Care Tips
Sun exposure and smoking are two of the biggest factors that impact skin health[11]Vierkötter, A., & Krutmann, J. (2012). Environmental influences on skin aging and ethnic-specific manifestations. Dermato-endocrinology, 4(3), 227–231. https://doi.org/10.4161/derm.19858. We discussed the importance of applying sunscreen earlier, but you can take other steps to prevent UV damage that speeds up skin aging. Wear a wide-brimmed hat that shades your face, ears, and the back of your neck, ideally made of a tightly woven fabric such as canvas. Wear sunglasses to protect the delicate skin around your eyes. Opt for long-sleeved shirts and long pants when practical, and keep in mind that darker colors are more effective at blocking UV rays. Limit the amount of time you spend outdoors, especially on sunny days, and remain in the shade as much as possible.
You know smoking is bad for your health, but it's also incredibly hard on your skin. Smoking causes the blood vessels to narrow in the outermost layers of your skin, decreasing circulation, reducing oxygen flow, and depriving the skin of nutrients necessary for skin cell turnover[12]Boelsma E, van de Vijver LP, Goldbohm RA, Klopping-Ketelaars IA, Hendriks HF, Roza L. Human skin condition and its associations with nutrient concentrations in serum and diet. Am J Clin Nutr … Continue reading. It damages collagen and elastin, loosening the skin, making it sag prematurely, and promoting the formation of wrinkles, especially around the mouth and eyes. Smoking also impacts skin tone and texture, making it rough and uneven.
The Best Anti-Aging Skin Care Products of 2021
Now that you know what to look for in anti-aging products and how to use them, review our list of the best anti-aging skincare products of 2021. According to expert dermatologists and facialists, the following wrinkle creams, anti-aging serums, and eye creams are the most effective at reducing the signs of aging.
Best Wrinkle Creams
Best overall – RoC Retinol Correxion Deep Wrinkle Anti-Aging Night Cream, $17
Best natural cream – Alpyn Beauty PlantGenius Melt Moisturizer with Bakuchiol, $60
Best with retinol – Emepelle Night Cream, $195
Best with peptides – Peter Thomas Roth Peptide 21 Wrinkle Resist Moisturizer, $95
Best for brightening – Skinbetter Science AlphaRet Overnight Cream, $125
Best for deep wrinkles – Olay Pro-X Deep Wrinkle, $75
Best for sensitive skin – Avène Eau Thermale RetrinAL 0.1 Intensive Cream, $69
Best Anti-Aging Serums
Best overall – EltaMD Skin Recovery Serum, $56
Best natural serum – Fleur & Bee Nectar of the C Vitamin C Serum, $28
Best with retinol – Paula's Choice CLINICAL 1% Retinol Treatment Serum, $58
Best with peptides – Life Extension Skin Firming Complex, $40
Best with vitamin C – Tatcha Violet-C Brightening Serum, $88
Best with stem cells – Life Extension Skin Stem Cell Serum, $60
Best exfoliating serum – Mad Hippie Advanced Skin Care Exfoliating Serum, $28
Best for fine lines – Sunday Riley Good Genes All-in-One Lactic Acid Treatment, $85
Best for sensitive skin – CeraVe Hydrating Hyaluronic Acid Serum, $13
Best for acne-prone skin – Caudalie Vinopure Skin Perfecting Serum, $49
Best for dark spots – Life Extension Skin Tone Equalizer, $45
Luxury pick – SkinCeuticals C E Ferulic Combination Antioxidant Treatment, $166
Best Under-Eye Creams
Best overall – SkinCeuticals A.G.E. Eye Complex, $100
Best natural – Life Extension Renewing Eye Cream, $49
Best with SPF – Colorescience Total Eye 3-in-1 Anti-Aging Renewal Therapy, $74
Best for sensitive skin – Restorsea Revitalizing Eye Cream, $85
Fight Aging Skin With Supplements
Researchers have found that consuming substances with anti-aging properties can also help slow the aging process and protect skin from cellular damage[13]chagen, S. K., Zampeli, V. A., Makrantonaki, E., & Zouboulis, C. C. (2012). Discovering the link between nutrition and skin aging. Dermato-endocrinology, 4(3), 298–307. … Continue reading. The easiest way to incorporate these substances into your skincare routine is by taking supplements that have been specifically designed to offer anti-aging benefits.
The following supplements have earned the highest ratings among consumers and dermatologists for fighting the signs of aging skin:
Life Extension Gummy Science™ Youthful Collagen. We previously discussed collagen and hyaluronic acid (HA) for topical application, but they are also key ingredients in anti-aging supplements. This best-selling supplement combines bioactive collagen with hyaluronic acid to hydrate skin and stimulate the production of collagen and elastin. Clinical studies have shown that it can encourage the natural synthesis of HA, promote elasticity, and reduce the appearance and volume of wrinkles.
Life Extension Hair, Skin & Nails Collagen Plus Formula. This supplement contains several bioactive collagen peptides and other potent nutrients to support healthy skin, hair, and nails. Cynatine® encourages the formation of keratin, reducing wrinkles and enhancing skin brightness. Biotin, or vitamin B7, aids in the metabolism of proteins and fatty acids that maintain the skin's protective barrier. Silicon is important for synthesizing collagen, improving elasticity, and strengthening the skin.
Life Extension Skin Restoring Ceramides. Ceramides are a type of fatty acids found naturally in skin cells and comprise nearly 50% of the skin's outermost layer. They are crucial for helping lock moisture into your skin, but levels of ceramides decrease as you age. With a high concentration of ceramides, this supplement has been clinically proven to hydrate skin, increase skin elasticity, smooth fine lines and wrinkles, reduce skin scaling and roughness, and enhance the overall appearance and comfort level of the skin.
Keep Your Skin Glowing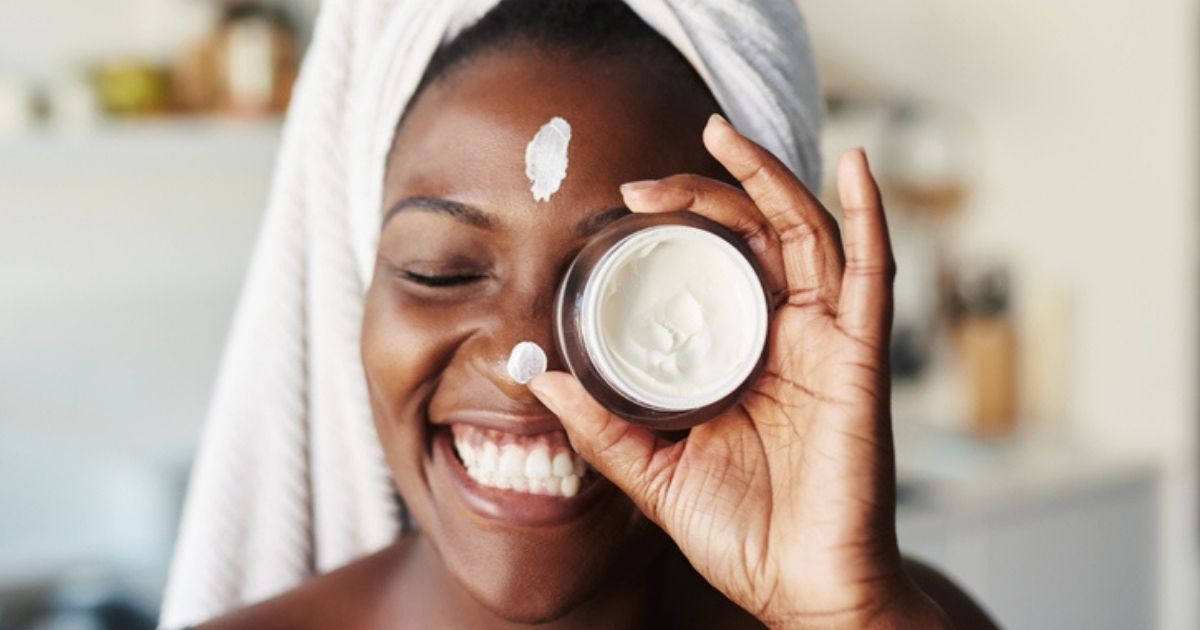 Aging is inevitable, but that doesn't mean you can't keep your skin looking healthy, bright, and gorgeous for years to come. Selecting a few key products, committing to a comprehensive skincare routine, and taking simple preventative measures can make a significant difference in the appearance of your skin. You might not be able to turn back the clock, but with our tips, you can effectively prevent or reverse the signs of aging.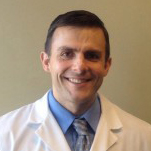 Chief Operating Officer, The Compounding Pharmacy of America
Matthew Poteet, Pharm.D. graduated with Honors from Lee University with a Bachelors of Science in Biological Science. After his undergraduate training, he completed the Doctor of Pharmacy program at Mercer University Southern School of Pharmacy, graduating in 2004. Dr. Poteet has spent much of his pharmacy career on staff at two of the most prestigious academic teaching hospitals in the Southeast; Emory University in Atlanta and Vanderbilt University Medical Center in Nashville. At these institutions he received extensive experience and training in sterile products compounding.
He returned home to East Tennessee in 2010, where he has held the position of Pharmacy Director at two sterile products pharmacies in Knoxville. Matthew lives in Knoxville with his wife, Chris. Dr. Poteet is Tennessee's first Board Certified Anti-Aging Pharmacist by the American Academy of Anti-Aging Medicine.
Sources:

↑

1

Zhang, S., & Duan, E. (2018). Fighting against Skin Aging: The Way from Bench to Bedside. Cell transplantation, 27(5), 729–738.

https://doi.org/10.1177/0963689717725755

↑

2

Lee, H. J., Jeong, S. E., Lee, S., Kim, S., Han, H., & Jeon, C. O. (2018). Effects of cosmetics on the skin microbiome of facial cheeks with different hydration levels. MicrobiologyOpen, 7(2), e00557.

https://doi.org/10.1002/mbo3.557

↑

3

Lin, T. K., Zhong, L., & Santiago, J. L. (2017). Anti-Inflammatory and Skin Barrier Repair Effects of Topical Application of Some Plant Oils. International journal of molecular sciences, 19(1), 70.

https://doi.org/10.3390/ijms19010070




↑

4

Purnamawati, S., Indrastuti, N., Danarti, R., & Saefudin, T. (2017). The Role of Moisturizers in Addressing Various Kinds of Dermatitis: A Review. Clinical medicine & research, 15(3-4), 75–87.

https://doi.org/10.3121/cmr.2017.1363

↑

5

Tanumihardjo, S. A., Russell, R. M., Stephensen, C. B., Gannon, B. M., Craft, N. E., Haskell, M. J., Lietz, G., Schulze, K., & Raiten, D. J. (2016). Biomarkers of Nutrition for Development (BOND)-Vitamin A Review. The Journal of nutrition, 146(9), 1816S–48S.

https://doi.org/10.3945/jn.115.229708

↑

6

Paul, C., Leser, S., & Oesser, S. (2019). Significant Amounts of Functional Collagen Peptides Can Be Incorporated in the Diet While Maintaining Indispensable Amino Acid Balance. Nutrients, 11(5), 1079.

https://doi.org/10.3390/nu11051079

↑

7

Wessels, Q., Pretorius, E., Smith, C. M., & Nel, H. (2014). The potential of a niacinamide dominated cosmeceutical formulation on fibroblast activity and wound healing in vitro. International wound journal, 11(2), 152–158.

https://doi.org/10.1111/j.1742-481X.2012.01052.x

↑

8

Tang, S. C., & Yang, J. H. (2018). Dual Effects of Alpha-Hydroxy Acids on the Skin. Molecules (Basel, Switzerland), 23(4), 863.

https://doi.org/10.3390/molecules23040863

↑

9

Liu, H., Yu, H., Xia, J., Liu, L., Liu, G. J., Sang, H., & Peinemann, F. (2020). Topical azelaic acid, salicylic acid, nicotinamide, sulphur, zinc and fruit acid (alpha-hydroxy acid) for acne. The Cochrane database of systematic reviews, 5(5), CD011368.

https://doi.org/10.1002/14651858.CD011368.pub2

↑

10

Hubbard, G., Kyle, R. G., Neal, R. D., Marmara, V., Wang, Z., & Dombrowski, S. U. (2018). Promoting sunscreen use and skin self-examination to improve early detection and prevent skin cancer: quasi-experimental trial of an adolescent psycho-educational intervention. BMC public health, 18(1), 666.

https://doi.org/10.1186/s12889-018-5570-y

↑

11

Vierkötter, A., & Krutmann, J. (2012). Environmental influences on skin aging and ethnic-specific manifestations. Dermato-endocrinology, 4(3), 227–231.

https://doi.org/10.4161/derm.19858

↑

12

Boelsma E, van de Vijver LP, Goldbohm RA, Klopping-Ketelaars IA, Hendriks HF, Roza L. Human skin condition and its associations with nutrient concentrations in serum and diet. Am J Clin Nutr 2003;77:348-355. (PubMed)

↑

13

chagen, S. K., Zampeli, V. A., Makrantonaki, E., & Zouboulis, C. C. (2012). Discovering the link between nutrition and skin aging. Dermato-endocrinology, 4(3), 298–307.

https://doi.org/10.4161/derm.22876