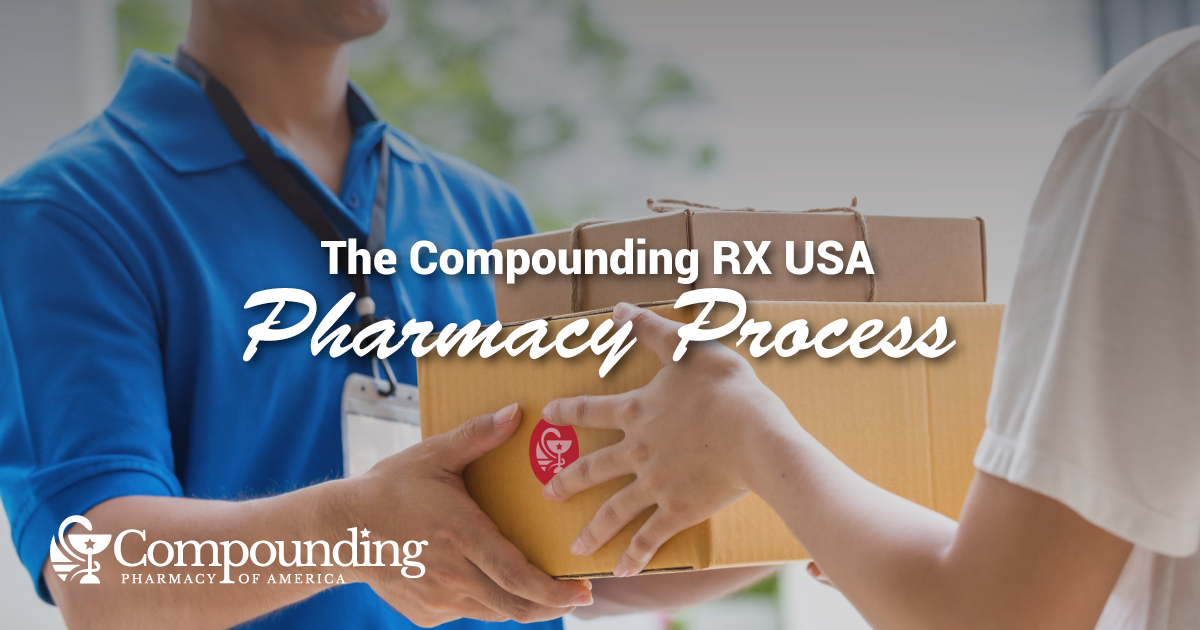 Access Across the Nation With the Compounding Pharmacy
Millions of Americans rely on prescription medications to live fuller lives, and it's important to know the options when searching for the right pharmacy. Some patients struggle with taking standard prescriptions or may require specialized combinations.
12 Services From the Compounding Pharmacy of America
It's vital to find a pharmacy that can provide the service and reliability necessary, especially for patients who rely on multiple medications or customized dosages. We're available to answer any questions about our services 24 hours a day, seven days a week. Here are few of our many services:
1. General Compounding Services
Some drugs are manufactured in set dosages, but these doses may not work for every patient. In these cases, our General Compounding services help patients get exactly the right dose of their medications.
2. Ophthalmology Compounding Services
When it comes to antibiotics, anesthetics, mitomycin, or any other ophthalmology medications, the proper dose is crucial for recovery. The Compounding Pharmacy of America strictly adheres to USP <797> to ensure the highest standards in the preparation of our sterile pharmacy products.
3. Hormone Replacement Compounding Services
Hormonal balance is crucial, but modern life is full of external forces that can tip the scales of our hormones. Patients who need hormonal replacements need to be sure their doses are exactly tailored to their specific needs. We offer hormone replacement therapy options for both male and female patients.
4. Topical Pain Relief Compounding Services
Countless Americans suffer from chronic aches and pains, and topical painkiller creams are very effective at delivering concentrated pain relief exactly where it's needed. Additionally, topical pain relief circumvents the risk of "first-pass metabolism," which can cause serious adverse health issues.
5. Dermatology Compounding Services
Struggling with skin problems is an issue for many Americans, and having a precisely mixed dose of dermatological medication is one of the best ways to heal these problems. The Compounding Pharmacy of America uses customized formulations so our patients can get exactly the right dose.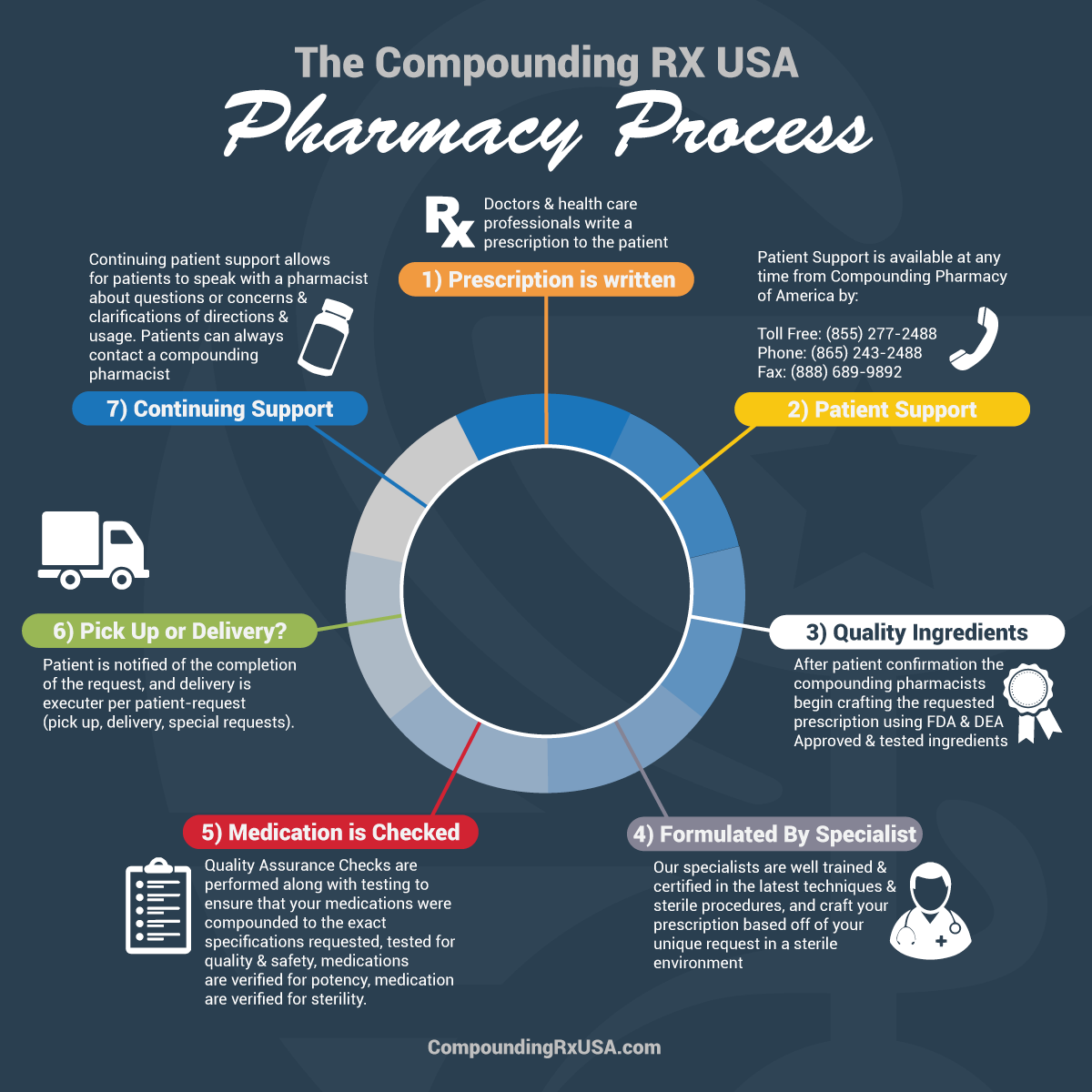 6. Erectile Dysfunction/Female Urology Compounding
Many people struggling with reproductive or sexual complications may shy away from finding the right medication out of embarrassment or fear of treating the most sensitive areas of the body. The right prescription for male erectile dysfunction or female sexual difficulties can help patients regain self-confidence and enjoy more intimacy with their partners.
7. Veterinary Compounding Services
Our pets often need medicines, but convincing them to take their pills can be challenging. The Compounding Pharmacy of America offers veterinary compounding services, and we flavor pets' medications with their favorite foods. Pet owners can rest assured that their pets will not only get the perfect dose of their medicines, but they'll taste great, too.
8. Pediatric Compounding Services
Our children deserve the very best when they require medications, and we provide custom dosages, ingredients, and flavorings to help your child take their necessary medicines easily. It's vital for children to receive the correct dosages for their developing systems, and we're happy to help.
9. Hospice and Palliative Compounding Services
Transitioning to hospice care is a difficult time for everyone involved and having the right medication dosages can assist the process to move along more efficiently. When making the transition from trying to heal to aid in comfort, the right combinations of medicines in the correct form are crucial.
10. Dental Compounding Services
Dental health is critical for healthy living. Having the right medications in the right combinations and dosages can make many Americans feel more at ease when visiting the dentist. The Compounding Pharmacy of America offers custom compounding for dental pain relievers, topical anesthetics, mouth rinses, and teeth-whitening medication.
11. Sports Medicine
Athletics take a toll on the body, and proper nutrition and rest are crucial for people who lead active lives. When medications for sports injuries become necessary, it's vital to have the right dosages so injured athletes can get back to what they love to do most. We provide custom mixing for topical pain relievers, antifungal medications, combination sports medications, and more.
12. Unavailable Medications
Unfortunately, it's not always possible to get exactly the right medication or the right dosage from a local pharmacy. Some patients require medications with specific ingredients. Patients who need discontinued medications may be able to find a suitable replacement with our customized compounding services.
Safely Shipping Prescriptions to 12 States
The Compounding Pharmacy of America wants to help each one of our patients secure their medication safely and efficiently. Our team produces our own medications, without the use of other manufacturers, to ensure you get the highest quality of prescription medication is sent to you. The Compounding Pharmacy of America is proud to ship medications to customers in these states: Alabama, Colorado, Connecticut, Delaware, Florida, Georgia, Illinois, Indiana, Maryland, New Jersey, New York, Ohio and more.*
Compounding Pharmacy of America Offers Multiple Services to 12 Different States!
Let Us Help You and Your Family Live a Fuller Life
*Check here to see up to date service areas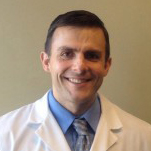 Chief Operating Officer, The Compounding Pharmacy of America
Matthew Poteet, Pharm.D. graduated with Honors from Lee University with a Bachelors of Science in Biological Science. After his undergraduate training, he completed the Doctor of Pharmacy program at Mercer University Southern School of Pharmacy, graduating in 2004. Dr. Poteet has spent much of his pharmacy career on staff at two of the most prestigious academic teaching hospitals in the Southeast; Emory University in Atlanta and Vanderbilt University Medical Center in Nashville. At these institutions he received extensive experience and training in sterile products compounding.
He returned home to East Tennessee in 2010, where he has held the position of Pharmacy Director at two sterile products pharmacies in Knoxville. Matthew lives in Knoxville with his wife, Chris. Dr. Poteet is Tennessee's first Board Certified Anti-Aging Pharmacist by the American Academy of Anti-Aging Medicine.