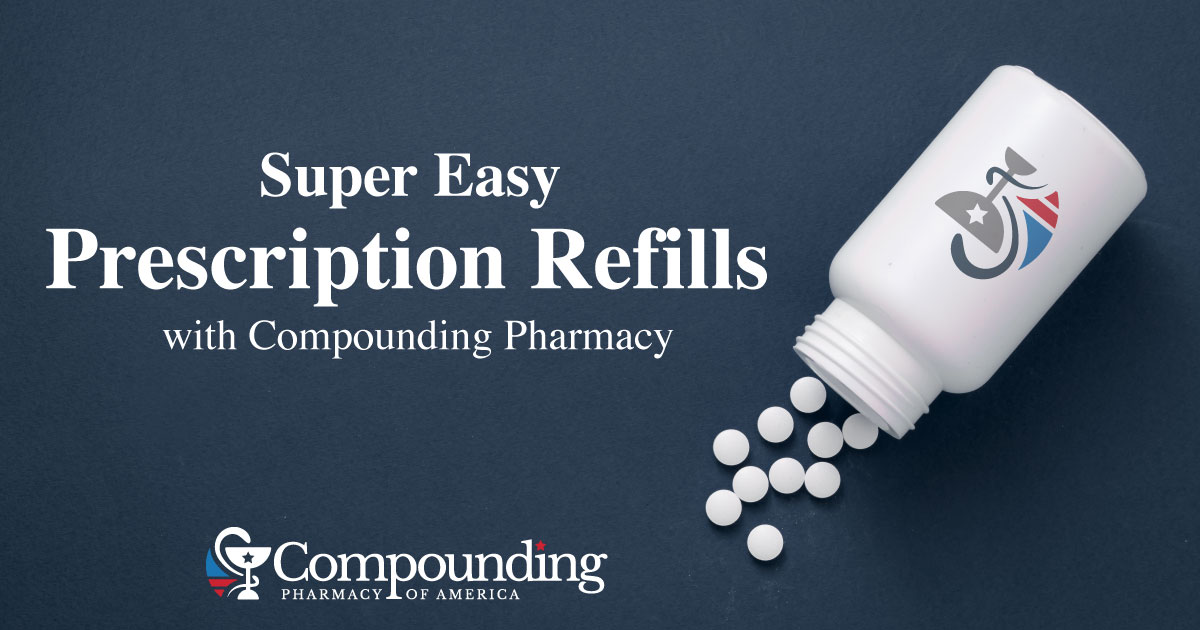 Millions of Americans rely on prescription medication every day, and managing several prescriptions can quickly turn into a stressful hassle. The Compounding Pharmacy of America provides prescription compounding services so Americans can get the medication they need in the correct form and the correct dosage.
Our compounding pharmacy not only provides convenient compounding services, but also makes prescription refills easy and stress-free.
Ordering Prescription Refills
Our order forms provide a simple and direct process that allows you to easily and quickly request your medication. We provide custom medications made from combinations of generic medications, each tailored to every customer's exact needs.
General Prescriptions
Our general purpose prescription order form is a fast and convenient way to order the medications you need. Your physician can list your medications and all the details, then fax it in or call us.
We'll get started right away, and you can count on timely shipping for your future refills.
General Prescription Order Form
Urology Medications
Customers who need urology prescription medication can use our urology prescription order form. Your physician can specify exactly which medication you need, as well as the delivery method, concentration and number of refills.
Urology-related medical conditions can make travel difficult at times, so customers can rely on 24/7 customer support and prompt shipping for every refill.
Urology Prescription Order Form
Topical Pain Management
Some people suffer from pain symptoms they cannot treat with typical pain medication in pill form. Topical pain creams are a fantastic alternative, and customers can use our topical pain management prescription order form to let us know exactly which medications they require and how they would like them prepared.
Topical Pain Management Order Form
Wound and Scar Management
Many people about to have surgery want to limit the appearance of scars, and other customers may have scars they'd like to heal better. There are no real over-the-counter solutions to scar management. A prescription is likely the best option for minimizing the appearance of scars.
Use our wound and scar management prescription order form to have your medication shipped to you directly. We offer medications for pain relief, with or without debridement, and specialized medications for keloid scars.
Wound and Scar Management Order Form
Weight Loss
Customers with weight loss prescriptions will find our available medications listed on our weight loss prescription order form. Your doctor will fill out the form and fax it to us or call it in, and we'll ship your injectable medications directly to you or your physician. Customers who order testosterone pellets will require implantation at their doctor's office.
Hormone Medications
Have your doctor fill out our hormone prescription order form for your hormone optimization medications. Your doctor can specify exact doses, dispensing method, accessories and any specific directions on the form.
Discuss the form with your physician and work together on a schedule for in-office appointments and medication doses.
Hormone Prescription General Order Form
Transdermal Pain Creams
Customers who need custom-blended neuropathy creams, anti-inflammatory creams or specialty combination creams can use our transdermal pain cream prescription order form to place an order with us.
Simply have your physician complete the form and fax it to us or call it in, then wait for fast, convenient delivery to your home with complete instructions.
Transdermal Pain Cream Order Form
Why Choose The Compounding Pharmacy of America?
Americans are very busy, and making time to visit the pharmacy and wait on refills is often challenging. When you order your prescriptions from The Compounding Pharmacy of America, you can count on speedy delivery right to your door. Our fast shipping offers great value, and we understand that some of our customers cannot take their prescriptions in the typical delivery forms.
Our custom compounding services are available to anyone in need of an easier method of taking their necessary medication. We can also help with specific doses no longer available in pharmacies, so you won't have to worry about splitting pills.
Additionally, customers with drug allergies or specific dietary concerns can rest assured knowing we can deliver their required medications in safe and effective compounds free from dyes, glutens or additives.
Visit our compounding services overview page to learn more about the many different types of medication we can compound, or use one of the order forms above to get started. Our customers enjoy our home delivery service and 24/7 customer support to ensure their medications arrive correctly and on time.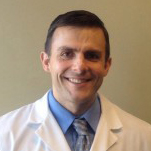 Chief Operating Officer, The Compounding Pharmacy of America
Matthew Poteet, Pharm.D. graduated with Honors from Lee University with a Bachelors of Science in Biological Science. After his undergraduate training, he completed the Doctor of Pharmacy program at Mercer University Southern School of Pharmacy, graduating in 2004. Dr. Poteet has spent much of his pharmacy career on staff at two of the most prestigious academic teaching hospitals in the Southeast; Emory University in Atlanta and Vanderbilt University Medical Center in Nashville. At these institutions he received extensive experience and training in sterile products compounding.
He returned home to East Tennessee in 2010, where he has held the position of Pharmacy Director at two sterile products pharmacies in Knoxville. Matthew lives in Knoxville with his wife, Chris. Dr. Poteet is Tennessee's first Board Certified Anti-Aging Pharmacist by the American Academy of Anti-Aging Medicine.