Description
QÜELL® Fish Oil offers supercritical CO2 extracted oils in triglyceride form, manufactured exclusively for Douglas Laboratories®. QÜELL® Fish Oil is unique among other fish oils due to its supercritical extraction, purity, bioavailability and concentration. Supercritical CO2 extraction technology ensures that omega-3 fatty acids are extracted without high temperatures, oxygen or traditional chemical solvents. The result is a fish oil of exceptional purity that can deliver concentrated amounts of EPA and DHA in one serving. QÜELL® Fish Oil EPA/DHA Plus D provides a 3:2 ratio of EPA to DHA plus 25 mcg (1,000 IU) of Vitamin D3 per softgel.‡
Consumers celebrate fish oil for increased health and boosted energy. Fish oil has quickly become championed for its availability and ability to make a significant short and long-term impact on consumer health.
Fish oil is composed of the fatty acids found in our brain tissue and nerve cells. It helps maintain cell health and fosters better communication between cells. Many consider fish oil to be "glue" keeping healthy cells together. Moreover, fish oil is sought after for supplemental benefits such as a healthier heart and improved skin.
Where Do Fatty Acids Come From?
Omega-3 fatty acids come from the oil of cold-water fish. However, some are extracted from algae or krill.
Should I Be Worried About Mercury Exposure?
Certain varieties of fish contain more toxins. Fish are not typically tested for mercury levels. But, Quell's Supercritical CO2 extraction technology ensures that omega-3 fatty acids are extracted without high temperatures, oxygen or traditional chemical solvents. The result is a fish oil of exceptional purity that can deliver concentrated amounts of EPA and DHA in one serving.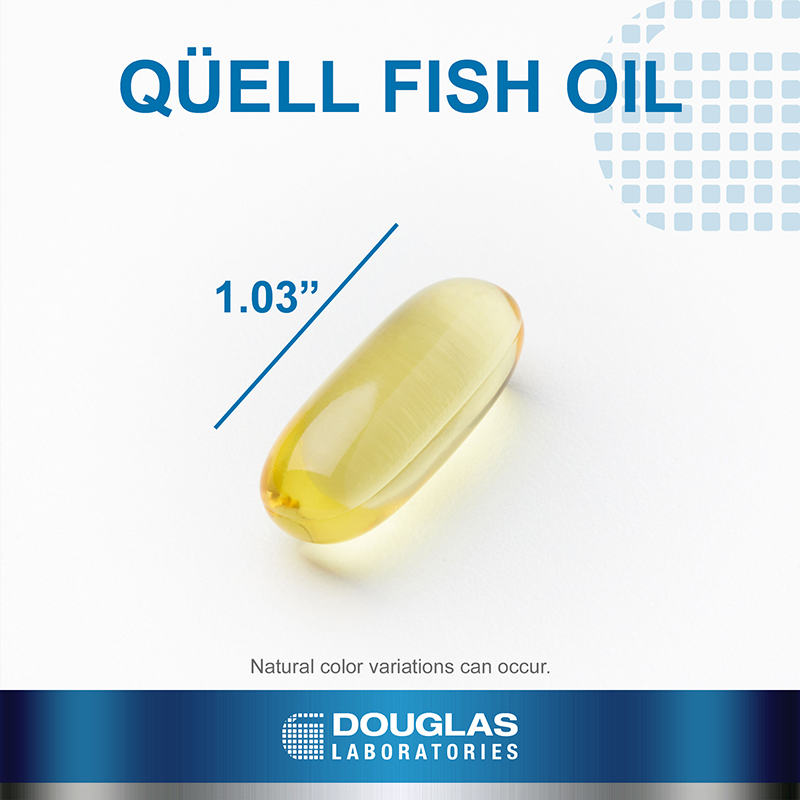 What Are the Benefits of Taking Quell Fish Oil?
Fish oil promotes heart health, lowering blood pressure and reducing the risk of heart attacks and strokes.
Improve joint health and reduce inflammation.
Fish oil is known to improve brain functions, boosting memory and learning.
Increase the feeling of well being and curb feelings of depression.
Promote skin health and reduce wrinkles, dryness, and acne.
Fish oil is known to support weight loss, reduce appetite, and increase energy.
When Is the Best Time to Take Fish Oil?
Take fish oil any time! However, it's best to take supplements with food. Moreover, fat-solubles are better absorbed when eating a meal.
How Much Fish Oil Do I Need?
It's estimated that one would need to eat at least three servings of oily fish per week for optimal consumption of fish oil. But, if fish is not a part of your regular diet, then you can rest assured that Quell Fish Oil has 1,250 mg of Omega-3 concentrate.
What Are the Ingredients of Quell Fish Oil?
Serving Size- 1 Softgel
Calories-10
Total Fat-1.3 g
Vitamin D3 (as cholecalciforol)-25 mcg (1,000 IU)
Omega-3 Supercritical CO2 Triglyceride Concentrate- 1,250 mg
Providing:
EPA (eicosapentaenoic acid)-600 mg
DHA (docosahexaenoic acid)-400 mg
Other ingredients:
Gelatin (capsule, from fish (Tilapia)), glycerin, water, natural-source mixed tocopherols and rosemary extract (leaf)
Contains: Fish Oil (anchovies, sardines, mackerel)
Customer Reviews for Quell Fish Oil
"Quell is one of the absolute best products you can get! Ultra high quality, purity, formulation. One of my friends owns an online fish oil business and Quell is his highest recommendation; it's what he personally uses!"
"Thank goodness a fish oil that doesn't give you a smelly breath, fishy burps and headaches. So many other brands give me headaches. This one doesn't. In fact at one point I thought I was just allergic to fish oils. Turns out, I hadn't found the right brand. Yes, it is more costly, but I'm okay with that to not have the side effects but still get these essential nutrients. My partner now takes them and is happy to kiss him with no fish smell. Win win!"
"My chiropractor recommended Quell fish oil capsules to help keep my knees and other joints in good health. I was experiencing joint pain so I asked my chiropractor what he recommended. Since I started taking these fish oil capsules about 2 months ago and doing the deep knee bends and other exercises my chiropractor suggested, my achy knees feel much better.."
"Best choice! Hands down! I've tried others and they ALL back up on me but NOT this one! I see and feel the difference in my skin and feel better!"
‡These statements have not been evaluated by the Food and Drug Administration. These products are not intended to diagnose, treat, cure, or prevent any disease.
Douglas Laboratories' logo, text, graphics, and photo images are the property of HVL LLC dba Douglas Laboratories and are used with permission. Copyright © 2018.